A NEW TREATMENT FOR
INGROWN TOENAILS
Onyfix® Nail Correction System
We are pleased to announce a new service offered by Professional Foot Care Nurse, Sharon Brophy. This innovative ingrown toenail treatment, called the Onyfix® Nail Correction System, is painless yet effective.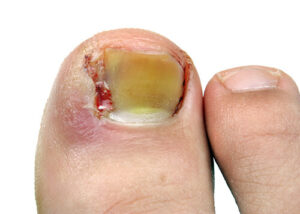 Left untreated, ingrown toenails progressively dig deeper into the skin, becoming increasingly painful and debilitating. And the accompanying inflammation can cause serious complications. So, it is important that ingrown toenails are treated as soon as possible, to protect a person's health and quality of life.
Sharon, a certified Onyfix® specialist, applies the system to the top of the toenail, next to the cuticle, and corrects most ingrown and involuted toenails. Initially putty-like, after applied to the nail, Onyfix® adheres to and grows out with the nail, maintaining the natural, correct nail shape.
The initial application begins to alleviate pain right away, and once it has grown out, will be removed by your certified Onyfix® specialist, at which time she will assess your affected nail(s) to determine if any further treatment is required.
Benefits of the Onyfix® Nail Correction System:
Painless application process
Does not require surgery or needles
Alleviates pain immediately on application
Remedies ingrown and involuted toenails with natural nail growth
Allows patients to wear regular footwear
Allows patients to continue enjoying their favourite activities
Appropriate for all ages
Suitable for people with pre-existing toe/foot conditions

What to expect during and after the application of the Onyfix® Nail Correction System
Putty is applied to the affected toenail, and shaped into a strip across the nail, next to the cuticle.
An Onyfix® blue light is applied to harden and bond the strip to the toenail. The light is completely safe and does not require patients to wear protective eyewear.
As the strip grows with your nail, it maintains the toenail's natural shape, correcting the ingrown or involute toenail.
When the Onyfix® strip has fully grown out, Sharon, your certified Onyfix® specialist will painlessly remove it from your toenail.