Why See a Pedorthist?
Here's How We Can Help
A Canadian Certified Pedorthist C. PED (C) is a lower-limb anatomy expert. We are one of the very few healthcare professionals educated and trained in how to assess, modify, design, and fit custom-made foot orthotics, footwear modifications, and footwear. We treat a wide variety of patients with concerns ranging from pre-existing conditions like arthritis and diabetes to sports injuries and bunions.
Through a consultation and assessment, we analyze your gait, examining your posture and joint mobility. We also take into consideration your lifestyle and activities in order to design a personalized treatment plan to decrease your pain and keep you active.
Jennifer Gulas – C. Ped (C)
Canadian Certified Pedorthist
Jennifer is a Kitchener native and has been practicing Pedorthics in the KW and surrounding areas since 2007. Jennifer holds a Bachelor's degree in Kinesiology and Physical Education from Wilfrid Laurier University. In her 3rd year she initiated her steps into the Pedorthic profession through a mentorship with a local Pedorthist. She went on to complete the Diploma in Pedorthics program and graduated with distinction through Western University. In 2007 she completed her National Certification and received her designation of C. Ped (C), Canadian Certified Pedorthist.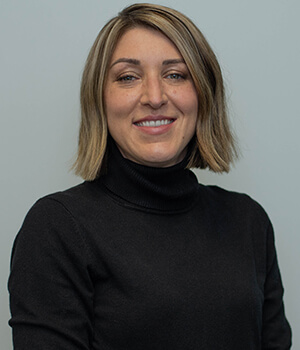 Jennifer's clinical approach is to provide and assist with the body's "foundation" for optimal joint, muscle and supporting soft tissue function. No matter the reason, whether it be injury related, dysfunction and compensations, chronic presentations or neurological complications, Jennifer's goal is to improve comfort and mobility for each patient. Each pair of custom foot orthotics is specifically designed by Jennifer, and fabricated in house.
Patient education plays a vital role in Jennifer's practice. Feeling confident in understanding the assessment and treatment plan are essential pieces in the overall experience, but also in the success outcomes.
Jennifer continues to educate and mentor new Pedorthic students as a supervisor to Pedorthic candidates who are enrolled in the Pedorthic program through Western University.
Jennifer served on the Ethics Committee and Continuing Education Committee for the College of Pedorthics of Canada for a number of years before being nominated and elected by her peers to serve on the Board of Directors for The College of Pedorthics of Canada. She did so for 6 years, and during that time gained valuable insight, knowledge and experience in the realm of public protection, business and board organization.
In her spare time Jennifer enjoys spending time with her family, hiking, fitness training, cooking, and wine pairing.
Patrick Purves – C. Ped (C)
Canadian Certified Pedorthist
Patrick is a Wingham native and has been practicing Pedorthics in KW and surrounding areas since 2011.
Patrick obtained his undergraduate degree, Bachelor in Human Kinetics with Honours in Movement Science from the University of Windsor. Following graduation, Patrick pursued his passion in the health and fitness industry working as a Kinesiologist and personal trainer before entering and completing the post graduate Pedorthics Program at Western University.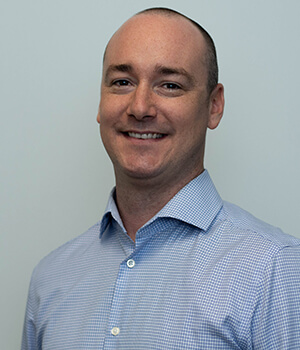 As an avid athlete in high school, Patrick developed an interest in the field of sports medicine. He was first introduced to Pedorthics when his family doctor referred him to a local pedorthist for an assessment and a pair of custom foot orthotics. Patrick's successful experience and the ability to return to sport gave him a true understanding of what the Pedorthic profession had to offer.
Patrick is the Co-Owner of Active Alignment and is the fabrication specialist/master builder of all the custom-made foot orthoses for the company. Patrick has a deep interest in research and design and is constantly looking for ways to improve patient outcomes. He continues his education not only from a patient/clinical perspective, but also the manufacturing side of Active Alignment.
In his spare time, Patrick loves spending time outdoors, enjoys woodworking, and treasures time spent with his family.
Basic, Advanced and Diabetic Foot Care Nurse
Sharon is a Wingham native and graduated in 1981 from the Registered Nursing Assistant Program at the Wingham and District Hospital. Sharon has practiced nursing in Wingham, London, and Stratford areas since that time. She has completed several continuing education courses and specialized training courses over the years to enhance her nursing education.
Sharon has worked in various acute hospital and long-term care nursing settings over the past 40 years both rurally and in the city.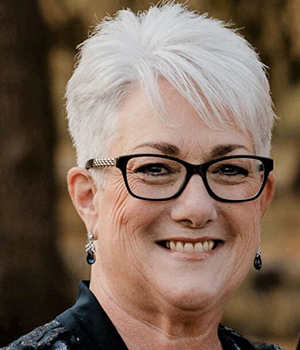 Over those years she has collected a vast amount of nursing knowledge that she shares with newly graduated nurses on a regular basis. She continues to learn and develop her skills within the medical field. Sharon also has vast experience working with people with mental, physical, and developmental challenges. She has a passion for providing care to these populations taking into account their individual needs.
At present Sharon works as a full time Registered Practical Nurse within the Huron Perth Healthcare Alliance. As an experienced RPN Sharon developed an interest in the need for foot care in the community. She was seeing patients coming into hospital with severe nail issues as well as other foot ailments. At times patient's nails were so neglected and long that staff would call in a doctor that had special training and proper tools to complete footcare on the patient.
Sharon discussed possible long-term, outpatient care for these patients' feet and discovered that options were limited in the area. It became clear that there was certainly an unmet need in various communities for foot care nurses to help deal with this ongoing problem. Consequently, she made the decision to become a foot care nurse.
In preparation to open her own nursing foot care business Sharon completed the Basic, Advanced, and Diabetic footcare nursing education certificate courses at the Footcare Academy in Pickering Ontario. She has also completed both the Level One and Level Two courses with the Art and Science of Burring, a division of Feet First Footcare Inc., with Krisztine Grad RN and foot care nurse educator. Furthermore, Sharon has participated in a Mentorship Program with the Aldershot Foot Care Clinic in Burlington Ontario.
In her spare time Sharon enjoys gardening, reading, and swimming. Sharon is also an avid fan of theatre, baseball, and hockey. Her favourite pastime however is spending time with her family. Sharon particularly enjoys spending time with her grandchildren and playing with her dog.