Many of us were raised having one pair of shoes for all physical activity, footwear that was generally referred to as "sneakers" or "running shoes".
But with the myriad types of physical activity that demand different types of movement, it's actually quite important to ensure we wear the right footwear for the job in each instance.
Whether you're playing an indoor sport, running a marathon, or hiking a winter trail, there's footwear that is specifically designed for that type of activity. Here are some of the factors that will affect your choice of shoe or boot:
overall fit – regardless of the type of shoe, ensure footwear fits properly in terms of both width and length
flexibility – rigidity of the sole should vary based on the demands of your activity
weight – some shoes are made quite lightweight while others are composed of more and denser materials that make the shoe heavier
comfort – various activities allow for or require an ultra-comfortable shoe, usually accomplished using additional padding and/or support in particular places
traction – select sports and activities require a flat sole for ease of movement (and possibly even a bit of sliding), while others require a tread that digs into the terrain to minimize slippage
grip – this can be achieved by using specific materials for the outsole and/or by adding a series of "lugs" or teeth to the bottom of the shoe or boot
type/direction of movement – walking and running generally demand only constant forward motion, while some sports require movement in multiple directions and or regular starts and stops
breathability – prolonged, intense, and/or frequent activity benefits from shoes that are breathable, allowing shoes to dry out between uses and minimizing the risk for bacteria growth
water resistance – although water resistance typically means reduced breathability, if your activity exposes you to wet or snowy conditions, this type of protection can enhance comfort and extend the life of your footwear
sole profile – in some situations, you'll benefit from a flat, sturdy sole, but in others (primary walking or running), a rocker sole enhances both comfort and performance
support – having adequate support is essential for most activities, but the amount and location of support in the shoe will vary depending on the activity's dynamics
durability – durability is always a good thing, regardless of the type of footwear in question, but the build of the shoe as well as the nature, duration, and frequency of activity will have an impact on how long your footwear lasts
Specific Types of Footwear for Different Activities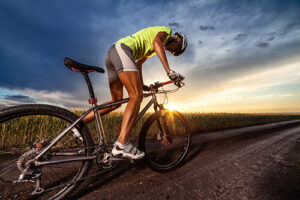 While this list is somewhat general and not exhaustive, the following are the main categories of activity-specific footwear.
Walking Shoes 
To support the rolling motion of your feet as you walk, walking shoes focus on shock absorption and flexibility.
Running Shoes 
Weight is a critical in a running shoe. Manufacturers generally use minimal and lightweight materials, prioritizing flexibility as well.
Cross-Training Shoes
Creating a strong, stable foundation for weight-lifting and other resistance work is paramount in a cross-training shoe. This generally means a sturdy, flat sole with a supportive upper.
Court Shoes 
Although court types can vary, a general indoor/outdoor hard court shoe will help ensure foot stability to counter frequent direction and velocity changes. A good thick, relatively flat sole is also typically a feature of court shoes.
Cleated Shoes
Field sports like football, baseball, soccer, and rugby are generally fast-paced and/or require bursts of activity that benefit from good traction. Cleats improve traction in all kinds of weather.
Hiking Shoes
Hikers encounter all types of terrain in all types of weather. Traction is critical so hiking footwear should have an excellent tread. Consider a Gore-Tex boot or shoe for added weather resistance without compromising weight or breathability.
Issues Arising from Wearing Inappropriate Footwear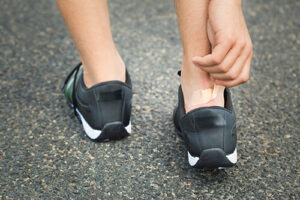 As with any type of footwear, issues like calluses, blisters, and even bunions can arise from wearing ill-fitting footwear. And while these irritations may seem minor, they can cause short- or even long-term discomfort if the footwear issue is not corrected and the condition not treated.
There are more serious side effects that can stem from wearing shoes not suited to your activity. So, choosing the appropriate, purpose-built footwear for the activity in question is critical in preventing injuries such as a sprained ankle, pain in your heel(s), shin splints, or even a bone fracture.
We're happy to make recommendations for shoes that will suit both your feet and your intended activity. And of course, if you have suffered an injury due to ill-fitting or inappropriate footwear, treatment is recommended to avoid prolonging or exacerbating your pain. Contact us to inquire about our professional foot care services.